XYPAWN
My xypawn game is a demonstration of machine learning based on the original hexapawn game created in the 1960s that used a simple mechanical "computer" using only matchboxes and beads.
Hexapawn was a 3x3 chess-like board with 6 ("hexa-") pawns. My xypawn extends from there to be x by y dimensions.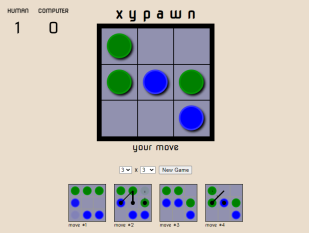 I am trying to have the computer generalize its knowledge of previous experiences to extend to similar situations, including other board sizes.
At this point, you can play full games against the computer in a variety of board sizes. All previous moves are shown in small diagrams below the board. The diagrams also indicate all the alternative moves the computer had to consider. I am still working on the A.I. aspect of the computer's choices.
work in progress